Georgioupolis Airport Transfers
Welcome to Georgioupolis, once a small and sleepy fishing village turned into the spa Mecca of Crete. Located in the Chania Region, it's only 46 kilometres (about 40-minute drive) away from the Chania Airport.
Book your Transfer
from / to Georgioupolis

Heraklion, the busy Crete's capital, is also not too far away. The distance between the two cities is 104 kilometres — a bit less than an hour and a half taxi ride.
Georgioupolis Airport Transfers
The peak tourist season from April to October means most visitors land on these two biggest Cretan airports. Getting a ride to Georgioupolis can be a hassle if you don't pre-book, as many taxi drivers will refuse to take you.
Don't worry. Best Transfers Crete provides smooth and seamless Georgioupolis airport transfers. We recommend booking the Georgioupolis airport transfers service from Chania or Heraklion to Georgioupolis early, so you can start your vacation relaxed, in a good mood and worry-free. Book yourself and your companions a comfortable vehicle, get on it as soon as you collect your luggage and kick off your holidays in style!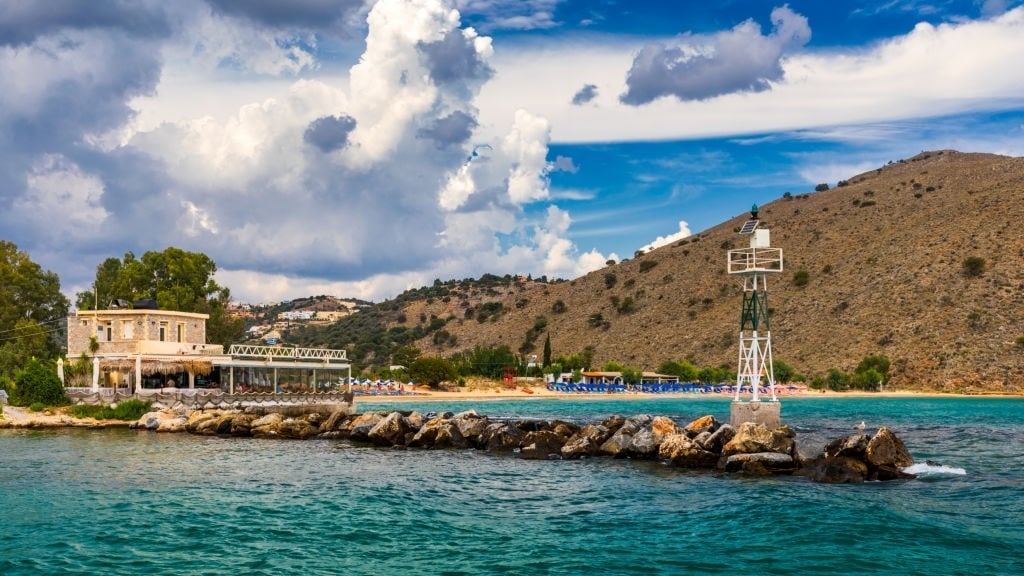 Why choose us for your transfer in Georgioupolis?
we provide first class service at a super affordable price - you get VIP treatment no matter how much you spend
our car fleet is large, cleaned regularly and thoroughly and well-maintained - chose among our standard and luxury sedans, family cars, SUVs, minivans and minibuses
you are supported 24/7, 7 days a week, 365 days a year by our outstanding customer service
our drivers are screened, hand-picked, professional and polite
what you book is what you pay - no hidden fees or monkey business
we get you to your booked accommodation safely, quickly, and in style
This charming Greek village is a geographically striking city because it's meeting the three rivers and the sea. Though small in comparison with Heraklion and Chania, Georgioupolis is surprisingly lively, brimming with life and people. To explore nearby places of interest, we suggest getting a taxi transfer to get around — it's affordable, convenient, and reliable.
This little city invites the visitors to take a stroll down the streets planted with eucalyptus trees, grab a tasty meal in one of many taverns or enjoy sipping on a glass of quality Greek wine while watching people pass by.
Georgioupolis Taxi Prices
| Destination | Price | Time | Distance | |
| --- | --- | --- | --- | --- |
| Heraklion Airport (HER) | €100 | 86 min | 103 km | |
| Chania Airport (CHQ) | €0 | 49 min | 48.4 km | |
| Heraklion Port | €100 | 90 min | 101 km | |
| Heraklion Town | €100 | 91 min | 101 km | |
| Souda Port | €0 | 34 min | 32.9 km | |
Georgioupolis Places of Interest
Almiros Wetland
Abundant and famous for its wetlands, Georgioupolis has a particularly significant one — the lake and the river Almiros. The lake is a paradise for all nature lovers, as it is home to many aquatic birds and plants. Once an unfriendly marsh, with the impending threat of malaria, the land was prohibited for living. Local people made villages at higher altitudes. After the marsh was drained and converted to fertile soil, the eucalyptus trees were planted, and the land became more friendly and appealing to settle — the city Almyropouli was founded in 1893. In 1899, it was renamed Georgioupolis (George's City) in honour of Prince George.
Lake Kournas
Clean, clear waters of Lake Kournas (Arabic word "kurna" means "lake" or "bath") won't leave you indifferent. Like many good things in life, it's relatively small in size, but it compensates for its natural beauty. It's the largest natural lake on the island of Crete, surrounded by lovely hills and positioned between the plane of Georgioupolis and the White Mountain.

It's the only freshwater lake on Crete, as well. Spending a day around this area means encountering the island wildlife in all its glory — turtles, ducks, cormorants, eels, and snakes live and reproduce here freely. In addition to admiring the flora and fauna, there are plenty of activities for you to enjoy: discovering the lake by pedal boat, diving in the clear, warm lake waters, basking in the sun or simply taking long walks around the lake.
After you finish, we suggest replenishing your energy with a traditional Cretan meal in one of many small tavernas nearby.
Kalivaki Beach
Are you into sandy beaches, quiet spots, and crystal-clear blue waters? Then Kalivaki is a perfect choice. Freshen up swimming, play water sports or spend hours catching a tan and relaxing with a good book under an umbrella.

Be warned — the water might be cold for some due to the exit of the rivers and water spring nearby. Kalivaki is the place where the river joins the sea. This is precisely why the locals call it "cold beach".
That being said, the beach itself is well protected from the wind, and its waters are shallow — so it's definitely kid-friendly.
Place the order for your transfer
- call us up or email with the subject line
"Georgioupolis transfer"
now.
ALSO READ
How to get to Georgioupolis from Heraklion Airport